How To Make Money Online-
Money is not everything but in today's world it has became a most important thing of our life, and it is a opportunity for us that we can make money online. It can be a good resource of your earning.If you are a
newbie then it is not so easy for you to earn money online, you have to face many difficulties online, but you never give up one day you surely earn your first income, and so many people thinks that is online money is real, and its answer is "Yes" it is real.
Easy ways to make money online at home.
Can people really earn money by working online from home?
Yes, there are many examples of people who earn more than 10 lack a month! don't shock its true some names are 1. Mr. Amit Agarwal 2. Harsh Agarawal ,etc... Even a student can earn, an old man , a house wife can earn money or a retired person can earn money online, and the beneficial thing is that there is no age limit, it is for everyone.Even you can submit your some bills by your online earnings. So many people from you see the ads of some apps or website like "click on ads and earn lacks" but these type of apps or website are not trust able or we can say that they are scam. In your life there is no shortcut to earn money you have do hard work.But there are some methods by which you can earn more with less efforts.
Simple easy ways to
make money online
for all people:-
Best way To Make Money Online-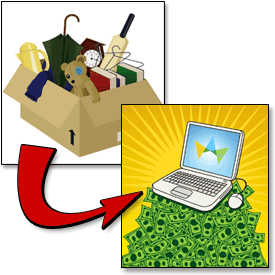 It is a very good way to make money online. So many times you have visited websites like ebay , OLX , Quicker , or Amazon. Then you see there so many second-hand goods at low prices. It is one of the easiest way to earn money with eCommerce website or eCommerce marketplace only you have to find things not in your use for eg:- your cellphone , Books , Electronics appliances , etc. To sell your thing fast you have to keep your price less and compare your price with price of other dealers. Simpally you have to register as a seller with websites like OLX , Quicker, ebay or amazon. Remember to sell your products online you required a paypal account or a bank account.
2. Set Up An Online Blog.
If you like to write something on any topic so you can convert your words into money! Yes its true. But you have to write attractive. To start a blog the best platform is blogspot you can make your free blog online by blogspot.You can make money with your blog by Adsense or Affiliate marketing. It is one of the easiest way to increase you earnings and pay your bills.
Remember
this traffic convert your words to money. It is too important to have traffic on your blog in a good amount. Then past adsense ads to your blog.
3. EARN MONEY WITH YOUTUBE.
It is a very easy concept to earn money with youtube, yes firstly you have to select a neich for your videos then create videos and upload that on youtube its simple, house wife can their youtube videos on yoga ,cooking , etc or we can make videos of prank and fun .
You can make money on youtube by adsense youtube gives you adsense approval when your 10000 views and simply you will get your adsense approved and you requires good watch time.
THANKS for giving your precious time to us if you like our post then please share it and don't forgot to comment.